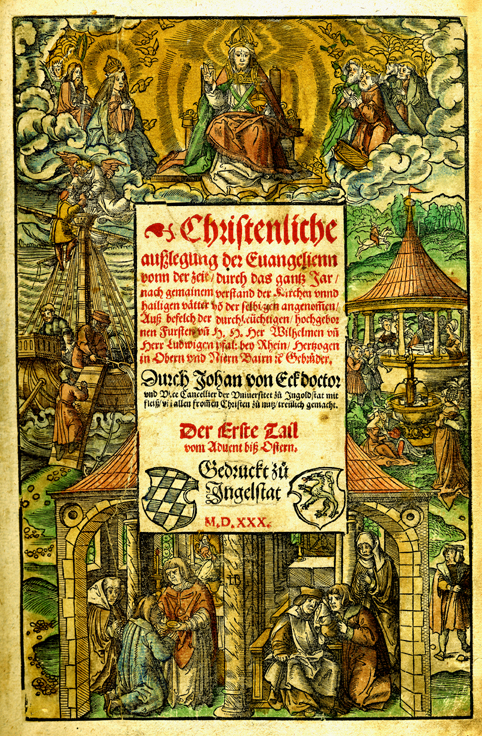 [No PDF Currently Available]
Book Title: Christenliche Ausslegung der Euangelienn : vonn der zeit durch das gantz Jar, nach gemainem Verstand der Kirchen vnnd hailigen Vätter vo[n] der selbigen angenom[m]en, auss Befelch der durchleüchtigen, hochgebornen Fursten vn[d] H. H. Her Wilhelmen vn[d] Herr Ludwigen Pfal: bey Rhein, Hertzogen in Obern vnd Nidern Bairn & Gebrüder / durch Johan von Eck ... Der erste Tail vom Advent biss Ostern
Author: Eck, Johann, 1486-1543
Image Title: Historiated Title-Page Border
Description: This historiated title-page border shows the path to salvation for humans, beginning as they leave worldly pursuits of hunting, feasting, and garden romances and move to confession and the Eucharist. From there they find the safety of the ship with its mast leading to heave.
Click here for additional images available from this book.
This image is made available by the generous contribution of E. Rhodes and Leona B. Carpenter Foundation.
Request a high-resolution file (fees apply)
Rights Statement: The online edition of this work in the public domain, i.e., not protected by copyright, has been produced by Pitts Theology Library, Emory University.
Rights Status: No Copyright - United States
Pitts Theology Library provides copyright information as a courtesy and makes no representation about copyright or other legal status of materials in the Digital Image Archive.