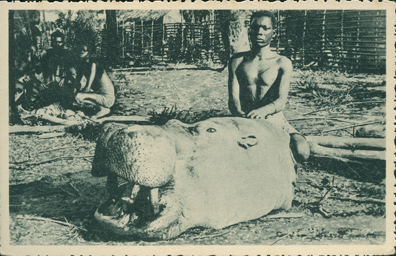 [No PDF Currently Available]
Book Title: African postcard collection
Author: Not Available
Image Title: Hippopotame (Hippopotamus)
Description: Congo-4. Tete d'hippopotame. Monstre de hideur et de force. Les missionnaires n'ont guere affaire a cet animal. Ils trouvent autrement passionnant de chercher des ames. (The head of a hippopotamus, a monster of hideousness and force. The missionaries are not in the habit of hunting such animals–they are more excited to look for souls.).
Click here for additional images available from this book.
Request a high-resolution file (fees apply)
Rights Statement: The online edition of this work in the public domain, i.e., not protected by copyright, has been produced by Pitts Theology Library, Emory University.
Rights Status: No Copyright - United States
Pitts Theology Library provides copyright information as a courtesy and makes no representation about copyright or other legal status of materials in the Digital Image Archive.